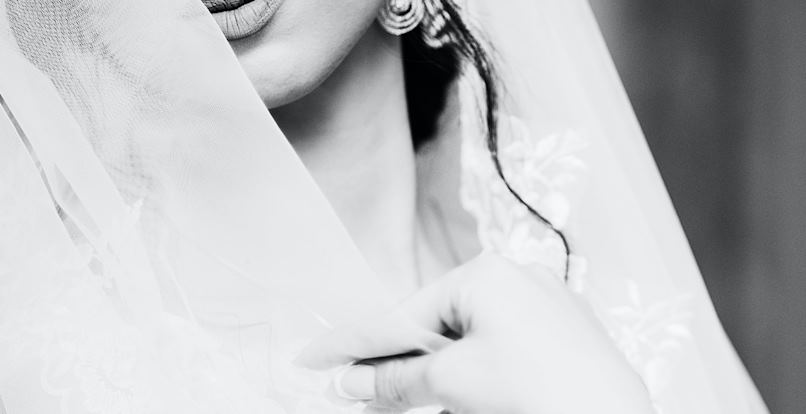 Bridal Makeup for Black and White Photography: Techniques That Work
Bridal makeup serves as a transformative medium, enhancing features and radiating confidence, but when it comes to black and white photography, a whole new dimension of techniques and strategies comes into play. The monochromatic canvas of black and white imagery necessitates a distinct approach to makeup application—one that harmonizes with the interplay of light, shadows, and contrasts. Whether you're a makeup artist seeking to refine your skills or a bride-to-be aiming to shine in every frame, understanding the art of black and white bridal makeup is a journey well worth embarking upon.
Techniques for Bridal Makeup in Black and White Photography
When it comes to bridal makeup for black and white photography, a subtle yet deliberate approach is essential to create captivating and timeless images. The interplay of light and shadows takes center stage in monochromatic photography, requiring specialized techniques that enhance the bride's features without overwhelming them. Here's a breakdown of key techniques to master for flawless black and white bridal makeup.
Preparing the Skin
Skin Care Routine and Moisturization: The foundation of any great makeup look begins with well-nourished skin. A thorough skin care routine involving cleansing, exfoliation, and moisturization sets the stage for a smooth canvas. Hydrated skin not only improves makeup application but also contributes to a natural glow that translates beautifully in black and white.
Achieving a Flawless Base for Photography: The camera lens can be unforgiving, capturing even the tiniest imperfections. Opt for a lightweight, matte-finish foundation that provides ample coverage without appearing heavy. Blend the foundation seamlessly, paying special attention to areas that might catch light. Consider using color-correcting techniques to neutralize any redness or discoloration.
Contouring and Highlighting
Subtle Contouring Techniques for Depth: While contouring adds dimension, it's crucial to avoid overly harsh lines. Opt for a cool-toned matte bronzer to create shadows and depth where needed. Blend meticulously to ensure a natural transition between shadow and light.
Highlighting to Catch Light and Create Dimension: Highlighting brings areas forward and adds dimension to the face. Choose a finely milled, light-reflecting highlighter to catch and amplify light. Apply it to the high points of the face – the cheekbones, brow bones, and down the bridge of the nose – for a subtle and elegant glow.
Emphasizing the Eyes
Choosing the Right Eye Makeup Shades: Soft, neutral tones often work best for black and white photography as they translate smoothly into varying shades of gray. Consider taupe, soft brown, or gray shades to enhance the eyes without overwhelming them.
Creating Definition Without Appearing Harsh: Emphasize the eyes by defining the lash line with a thin line of dark eyeliner. Opt for a smudged effect rather than a stark line for a more natural appearance. Focusing on well-defined eyebrows can also add structure to the face.
Lips that Pop
Selecting Lip Colors that Complement Black and White Tones: Classic reds, deep berries, and neutral shades tend to work well in black and white photography. Choose lip colors that flatter the bride's skin tone while providing a striking contrast.
Enhancing Lip Shape and Definition: Use a lip liner to define the lips and prevent feathering. Apply lipstick with precision, focusing on creating a balanced shape. A slight sheen or gloss can add dimension to the lips without overpowering the overall look.
Blending Techniques
Achieving Seamless Blending for a Natural Appearance: Seamless blending is the cornerstone of any successful makeup look. Whether it's eyeshadows, contour, or blush, ensure that transitions between colors are soft and natural.
Avoiding Overly Harsh Lines and Contrasts: Harsh lines and contrasts can appear stark in black and white photography. Use a light hand and build up color gradually, ensuring that no elements of the makeup distract from the bride's natural beauty.

Tips for Longevity and Freshness
Ensuring that the bride's makeup remains impeccable throughout the festivities is paramount for picture-perfect memories. From the moment she walks down the aisle to the final dance, these tips will help maintain the longevity and freshness of her black and white photography makeup.
Setting Makeup for Long-Lasting Results
To lock in the makeup and extend its wear, consider using a setting spray or a finely milled translucent powder. A setting spray not only helps the makeup adhere better to the skin but also adds a natural finish. Gently misting the face with a setting spray before and after makeup application can significantly enhance its staying power.
Touch-Up Techniques During the Event
Even with the most meticulous application, touch-ups are a necessity during a long event. To maintain a flawless appearance, the bride or her makeup artist should keep a small touch-up kit on hand. Include essentials like blotting papers to absorb excess oil, a finely textured translucent powder for quick touch-ups, a lipstick or lip gloss for maintaining vibrant lips, and a soft makeup brush for blending and refreshing.
Dealing with Sweat and Potential Makeup Smudging
Sweat can pose a challenge, particularly if the event takes place outdoors or in warm environments. Opt for long-wearing and waterproof products to combat potential smudging. For areas prone to sweat, such as the forehead and under the eyes, lightly apply an oil-absorbing product before makeup application to minimize excess moisture. If sweat does occur, gently blot with a clean tissue or blotting paper and avoid rubbing to prevent smudging.