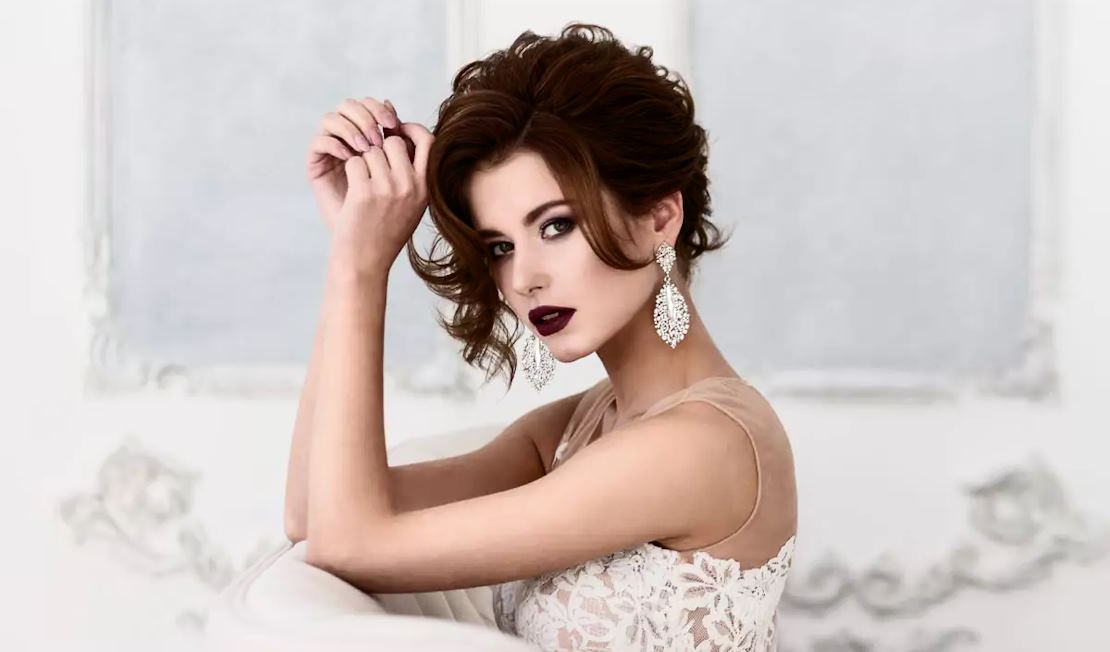 Hairstyles for Second-Day Weddings: Relaxed and Dreamy Styles
As wedding trends continue to evolve, couples are increasingly drawn to the allure of second-day weddings—an intimate celebration that embraces a more relaxed and dreamy atmosphere. With the shift towards less formal affairs, the spotlight now turns to the realm of hairstyling, where brides are seeking hairstyles that mirror the effortless elegance of second-day weddings. From bohemian waves to artfully disheveled updos, we explore a range of options that capture the essence of understated beauty and personal expression.
Factors to Consider for Second-Day Wedding Hairstyles
When it comes to second-day weddings, the ambiance is often more laid-back, allowing for a sense of ease and natural beauty. As you embark on the journey of choosing the perfect hairstyle for your intimate celebration, several key factors should guide your decision-making process.
Weather and Location:
The setting of your second-day wedding plays a pivotal role in determining your hairstyle. If you're exchanging vows on a sandy beach with gentle sea breezes, opting for loose waves or a relaxed updo can help keep your hair looking effortlessly chic even amidst the winds. Conversely, if you're embracing a garden or woodland backdrop, you might lean towards ethereal braids intertwined with delicate blossoms. The climate also influences your choice—consider an updo to combat heat or flowing locks for a cooler environment.
Dress Style:
Your wedding attire should harmonize with your hairstyle, creating a cohesive and stunning look. For a bohemian-inspired lace gown, tousled waves or a half-up braid can channel an air of free-spirited romance. A vintage-inspired tea-length dress, on the other hand, might pair elegantly with retro waves or a classic updo adorned with vintage pins. By aligning your hairstyle with your chosen dress style, you'll exude a captivating and harmonious aesthetic.
Time of Day:
The timing of your second-day wedding—whether it's a sun-kissed afternoon affair or a candlelit evening celebration—significantly impacts your hairstyle. Soft, loose curls can beautifully catch the sunlight during daytime ceremonies, while a more polished updo can add sophistication to an evening event. Tailoring your hairstyle to the time of day ensures that you not only look exquisite but also feel comfortable throughout the festivities.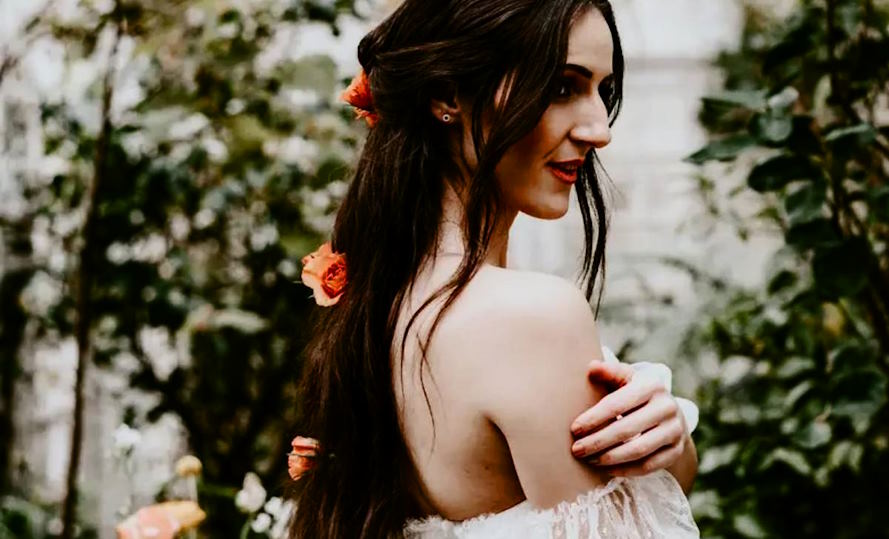 Relaxed Updos
When it comes to second-day weddings, the art of hairstyling takes a more relaxed and enchanting turn. Relaxed updos offer an elegant yet effortlessly chic option for brides seeking a hairstyle that perfectly embodies the intimate and dreamy atmosphere of these special celebrations.
Exploring the Options:
Relaxed updos come in a variety of styles, each carrying its own unique charm. The messy bun, with its artfully disheveled appeal, brings a touch of casual elegance. A low chignon, gracefully positioned at the nape of the neck, exudes timeless sophistication. For those craving a touch of boho romance, loose braided updos interwoven with delicate blooms create a captivating ethereal effect.
Creating Effortless Magic:
Crafting a relaxed updo might seem intricate, but the process can be surprisingly simple. Begin by texturizing your hair with a sea salt spray to achieve the desired volume and texture. Sweep your locks into a loose bun or chignon, securing it with bobby pins while leaving a few tendrils free to frame your face. If opting for a braided updo, create loose braids and intertwine them for a whimsical effect.
Bohemian-Inspired Tresses
The bohemian trend, with its free-spirited allure and effortless charm, has found its way into the hearts of brides seeking a second-day wedding style that reflects their inner wanderer. This ethereal trend is a perfect match for the relaxed and dreamy ambiance of these intimate celebrations.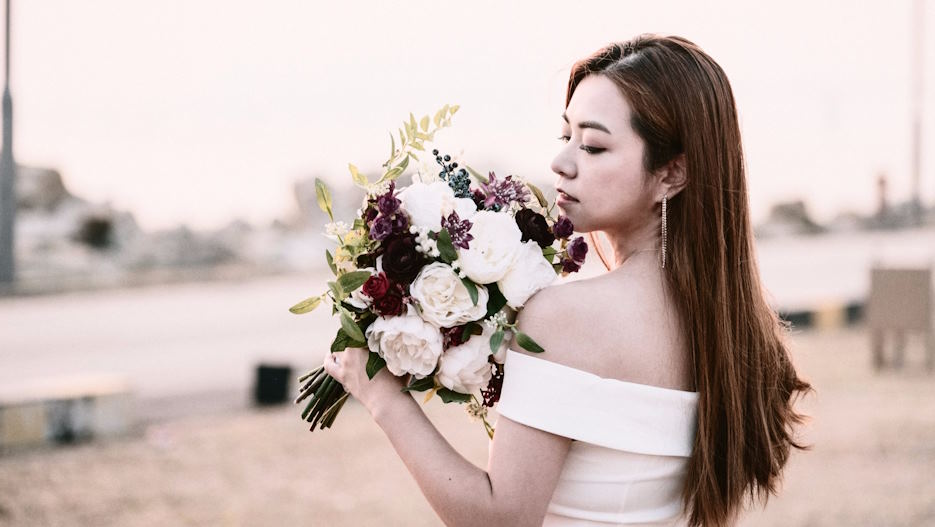 A Perfect Pairing:
The bohemian trend's compatibility with second-day weddings lies in its natural, unfussy essence. Flowing waves, tousled curls, and half-up boho braids effortlessly capture the carefree spirit of these occasions. The soft, unstructured nature of these hairstyles beautifully harmonizes with the laid-back atmosphere and allows brides to radiate a sense of timeless elegance.
Capturing the Dreaminess:
To elevate the bohemian aesthetic, consider incorporating delicate hair accessories such as floral pins or decorative combs. These subtle additions enhance the dreamy vibe and add a touch of whimsy to your tresses. Opt for organic textures and loose braids, allowing your hair to dance with the wind and evoke a sense of romantic serenity.
Accessorizing for Elegance
Elevating second-day wedding hairstyles from enchanting to truly captivating often lies in the art of accessorizing. Delicate hair embellishments have the power to transform your tresses into works of art, enhancing the dreamy aura of your intimate celebration.
The Power of Accessories:
Hair accessories hold the key to infusing your hairstyle with a touch of elegance and personality. They're not just adornments; they're statements that accentuate your beauty and complement the relaxed atmosphere of second-day weddings. From subtle accents to statement pieces, these accessories complete your look and add that extra sparkle.
Enchanting Options:
Consider a myriad of options when selecting hair accessories. The timeless charm of flower crowns brings a romantic and bohemian flair. Decorative pins can add a touch of vintage glam or modern sophistication. Delicate headbands offer a sweet and ethereal touch, perfectly aligning with the dreaminess of second-day weddings.